Ballroom Dance is MORE Than Dancing
Have you ever twirled around the dance floor in absolute delight? If your answer to this question is "YES," then you already know ballroom dancing is more than dancing. However, if you are new to ballroom dance, then this might be news to you. Regardless if you are a beginner or advanced ballroom dancer, some of the topics we touch on in this article just might surprise you!
Why is ballroom dance more than just dancing?
Not only is ballroom dance fun, it also has positive effects on your mental and physical health. In addition to increased health benefits, you'll make new friends and meet new people, your confidence will naturally increase (say goodbye to your shyness),  and it's amazing at relieving stress and anxiety, and a relationship boost with your partner.
Do you have two left feet or find yourself uncomfortable dancing with a partner at a wedding, formal affair or event? Have you considered taking a dance class? At Arthur Murray Dance Centers in Orlando, we help you get your footing and find your groove, literally! Bring a dance partner and get ready, because Ballroom Dance is so much more than just dancing.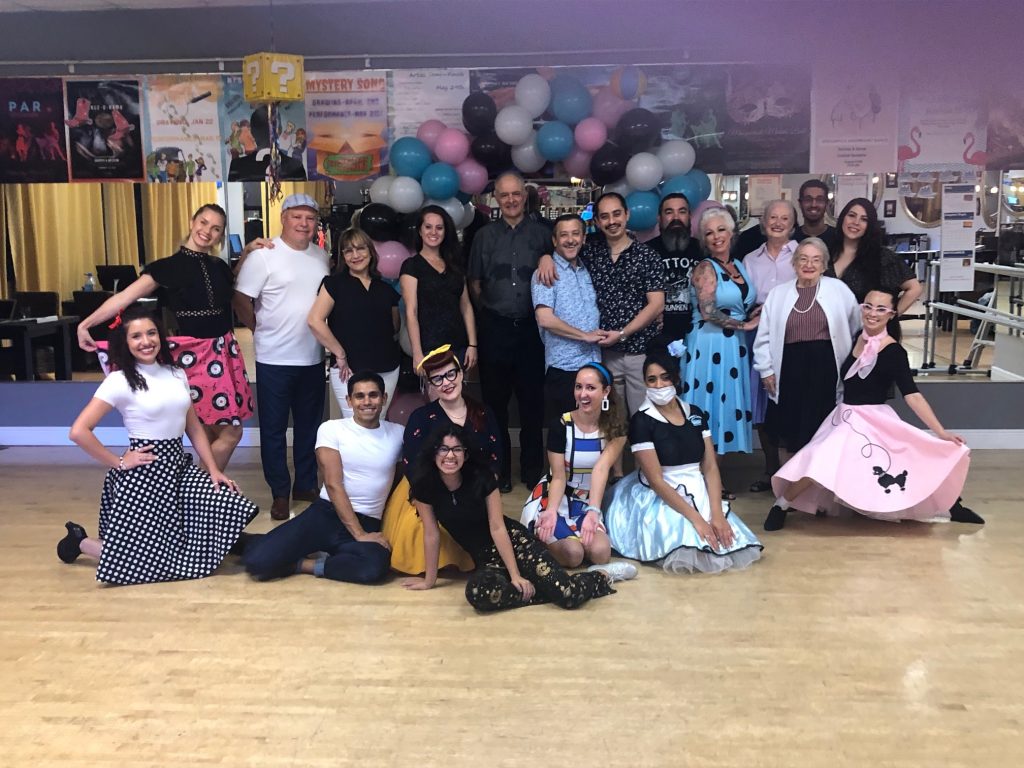 What people don't know about ballroom dance
When you hit the ballroom dance floor, did you know you are not just dancing? You are having fun and exercising. All while strengthening your bond with your dance partner. Even meeting new people who will soon become friends. Think of how much more comfortable you would have been dancing your first dance at your wedding (when all eyes were on you, having had taken ballroom dance classes!)
Attending events and formal functions where dancing is involved, everyone wants to put their best foot forward and feel comfortable socializing and dancing the night away. Ballroom dance gives you confidence you may have never had, not just on the dance floor, but in other aspects of your life too.
Ballroom dance develops not just your dance skills, but so much more! From personal growth to growing as a dance partnering the possibilities are endless. If you are 18, 45, or 80 years old, it is never too late to learn a new skill, and this includes ballroom dancing!
Health Benefits
Ballroom dance is a great exercise and so much fun! You do not even realize you are working out! Our students discover this at their very first class. Many have lost weight and/or lowered their blood pressure. They have even increased flexibility. Can you imagine a better exercise?
Arthur Murray students rave about their increased endurance and energy as well as enhanced their personal strength. Through the art of ballroom dance, students have a more positive mood and increased self-confidence. Those who suffer from anxiety also find dance eases their anxiousness.
Dance your way into a better posture and mood and literally change your outlook on life and increase your happiness. Who knew ballroom dance could have so many health benefits? Some of our students have even been referred to us by their doctors. While others have been recommended they continue dance with us due to the benefits they experience.
Creativity
Dance naturally brings out the creative side of people. People are able to express themselves through movement and dance. When the music plays and the beats start bumping, people just can't help but to move their body.
Music is a huge creative outlet for people. Music itself has a healing power. Combine that with the creativity that dance brings out and you may be surprised how it helps to bring out your creative side.
Through ballroom dance, you are providing your brain with connections and impulses. By doing so, you are training your mind to look at situations differently than you did before. This helps you to connect with your creativity and find a passion you may not have known you had.
Dance can be used as a tool to change habits or patterns in your own life that you may feel stuck in. Research shows that through the art dance, it is a useful tool in changing your own brain patterns, allowing for new ideas to spark! Hence becoming more creative. Bet you didn't know that!
***Last paragraph per artship.co (https://artship.co/en/blog/7-reasons-why-taking-dance-classes-make-you-more-creative/)
Friends
Many of our students at Arthur Murray who take dance lessons with us have made some great friends. They connect with each other during classes and events they take and participate in. After spending so much time in isolation this past year and half, it is such an incredible feeling to connect with people once again!
Sharing time together and learning a new skill is a great base for a friendship. Laughing together and learning new things as group creates such a great bond, students become friends easily. While gaining confidence, you will likely gain new friends too.
Strengthen Relationships
When you learn a new skill with someone else, you in turn strengthen the bond between you. Build on the relationship you have.  Whether you are taking ballroom dance lessons with a friend, a boyfriend, a girlfriend, or a spouse. Ballroom dancing lessons truly help you to build confidence, not just within yourself, but as a team. Improving your footwork, and learning (perhaps from the ground up.)
You are mentally, physically and emotionally connecting to your dance partner. Since much of life's communication is in fact non-verbal, ballroom dance is a fantastic way to practice and enhance not just your dance skills, but also your non-verbal communication skills too.
Ballroom dance is a great way for partners to build their teamwork skills. While learning a new skill such as dancing, you are learning to respect each other and to cooperate in the name of dance. By accepting your partner and vice versa, couples can greatly improve empathy for one another as well. Building on your foundation, and positively reinforcing the improvements you each are making is a fantastic way to further strengthen your bonds and relationships.
Quarantine Virtual Group Lessons
If you are still social distancing, fear not. We have you covered. Join us for a lesson from the comfort and safety of your own home with quarantine virtual lesson. Many of our events are showcased virtually too so it's easy to participate in those too.
Contact us today for more information as we would love to connect with you and get you cha cha cha ing!
About Us
At Arthur Murray Dance Studios, we ensure all of our students feel comfortable and have fun while dancing! We want everyone to feel as excited about dancing as we are to teach them. From ballroom to Latin dance, our studio is a great place to learn. We offer local dance classes, ballroom dance events, dance activities and events at a studios across Central Florida.
If you are looking for a fun date idea or want to brush up on skills before a wedding or big event. Take a few classes with us and you will feel confident out on the dance floor. With professional instructors, our goal is to make dancing easy and fun to learn.  With step-by-step instruction, we move at your pace, ensuring you master the steps. Learn some of today's most popular dances and join the over 40 million people who have learned to dance at Arthur Murray!
Arthur Murray Dance Centers Clermont – Ballroom Dance is MORE than Dancing
Ballroom dance is more than just learning to dance. It helps you to feel more comfortable at social events. Perhaps if you love all eyes on you, then this is the perfect time to brush up on your dancing skills and get all eyes on you at your wedding or next social event!
Ballroom dance also helps individuals to overcome their shyness and feel more comfortable in their own body. Becoming more graceful, confident and poise.
Dancing in general is such an amazing stress reliever, so many of our students come straight from work! If you are not one to hit the gym or go for a run but would like to feel more active (perhaps shed some your quarantine pounds) grab a partner and let's get dancing!