Match Your Style of Dance to Music
Dance and music are beautiful forms of art that complement each other in a unique way. One isn't the same without the other. Music encourages the dancer to move in ways that communicate what the artist wants to portray to the audience. Likewise, dance brings a new understanding of what the songwriter had planned for their audience. It's time for you to discover your style of dance. 
Arthur Murray dance studio offers classes on several types of ballroom dances. We have matched types of music common with styles of ballroom dancing. If you prefer a specific genre of music, we have a dance that complements the music. If you're unsure of what dance style to try first but know what music you like, look at the list below. 
Discover Your Style of Dance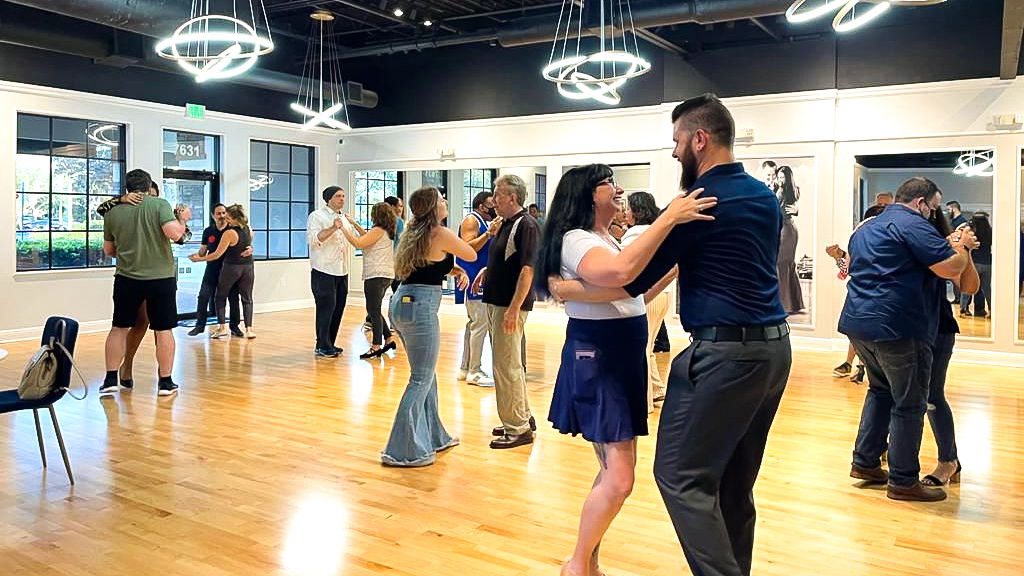 Waltz
When people think of ballroom dancing, the first thing that typically comes to mind is the waltz. Waltz comes from the German word "Walzen," which means to revolve. A waltz is a dance done in pairs and performed in triple time. The couple is usually dancing together near one another. The wonderful thing about a waltz is that all types of genres can be used. It's not limited to classical or instrumental music like many people think. Any piece written in 3/4 time will pair wonderfully with a waltz. You can dance the waltz to classical, jazz, modern contemporary, country, and even pop. 
Great songs to dance the waltz to:
Could I Have This Dance- Amy Grant

If I Ain't Got You- Alicia Keys

Fascination- Nat King Cole

You and Me- Lifehouse

Welcome to Mystery- Plain White T's

Are You Lonesome Tonight- Elvis Presley

Skyfall- Adelle

Moon River- Andy Williams

Foolish- Johnny Mathis

Mystery- Pink and Steven Tyler

Tennessee Waltz- Anne Murray

Nothing Else Matters- Metallica 
If you enjoy a wide range of music, a waltz is for you! 
Tango
Dancing the tango is fun and filled with passion. The tango is danced to music with a 2/4 or 4/4 time signature. Tango music is influenced by a mix of European classical dance music and Argentina folk music. Tango music is not limited to instrumental only. However, standard instruments used for tango include double bass, guitar, bandoneon, violin, flute, clarinet, and piano. One key factor to remember when finding music suited for tango is the 2/4 or 4/4 time signature and the marching rhythm with drumrolls. The tango is a very dramatic dance that pairs well with dramatic music. The dance won't be the same without the right music. 
Great songs to dance the tango to:
Libertango- Astor Piazzolla

Blue Tango- Leroy Anderson

Tango 65- Empress Orchestra 

You'll Never Tango- John Powell

Hernando's Hideaway- Archie Bleyer 

Havana- Camila Cabello featuring Young Thug

Castle on the Hill- Ed Sheeran
Foxtrot
The foxtrot is a smooth romantic dance that any spectator will surely recognize. The dancers gracefully travel down the line of dance. The long walking movements involve subtle rise and fall with small quick steps. The slow steps take up two beats, while the quick steps take up one. Big band swing-style music is typically what is chosen for a Foxtrot. 4/4 time is a must, with a tempo around 120 to 136 beats per minute. It truly is a fun dance to experience both on the dancefloor and in the audience watching. 
Songs to enjoy the foxtrot to:
A Wink and a Smile- Harry Conick Jr

Ain't That a Kick in the Head- Dean Martin

Better Together- Jack Johnson

Clementine- Bobby Darin

Deed I Do- Ella Fitzgerald 

I Do- Colbie Caillat

I'm Yours- Jason Mraz

Adore You- Miley Cyrus 

Let It Go- Idina Menzel

All of Me- John Legend

Just a Kiss- Lady A
Salsa
Salsa is a ballroom dance that is just what it sounds like—spicy! It is a Latin dance and became popular in the united states in the 1960s. You're sure to love this upbeat dance filled with a series of spins and turn patterns. Salsa is unique in that the dancers can break apart and dance solo. That's right; each dancer can have an opportunity to take the spotlight and shine. This must be why these moments are referred to as "shines". The best music to use for salsa are songs with Latin influence. Music derived from Cuban danzon, rumba, guaracha, cha-cha-cha, mambo, and Latin Jazz. 
Fun songs to pair with salsa:
La Vida es un Carnaval- Celia Cruz

Periodico de Ayer- Hector Lavoe

Devorame Otra Vez- Lalo Rodriguez

Vivir Mi Vida- Marc Anthony

Tu Carinito- Puerto Rican Power
Arthur Murray Orlando – Match Your Style of Dance to Music
Whether you enjoy the rich sound of Latin music or the fun, upbeat rhythm of the foxtrot, Arthur Murray has classes for every type of ballroom dance. Visit us online or in-person today, and you'll soon find yourself dancing the night away to your favorite music—on the dancefloor and in your home! You're sure to love the dances and enjoy the rhythm of the music. Contact us today…dance tomorrow!