Join Us for Tournament of Champions – Orlando
The most anticipated event of the year is just around the corner… That's right, the Tournament of Champions begins October 31st and runs through December 9th!
If you are unfamiliar with the Tournament of Champions, you're probably wondering why all the hype around this particular event. What is the Tournament of Champions anyways? Simply put, it's a perfect blend of competition and celebration around the world. There are over 250 Arthur Murray Studios in numerous countries that take part in the event!
What is the Tournament of Champions?
Tournament of Champions aka TOC as you might hear it called is a worldwide competition between all the staff and studios throughout the Arthur Murray organization. The purpose is to see who has the most active studio. Both the instructors and students take part in the event! It's bragging rights at the highest level!
TOC is also the one time each year your dance teachers can be recognized by the worldwide organization. They put in a lot of hard work and tons of energy to help create a fantastic dance experience for Y-O-U!
TOC runs for 6 weeks (this year is Oct. 31st – Dec. 9th). While it is an organization-wide event, each studio has a unique way of engaging its students! Each studio creates its own theme and plans out special-themed events over the course of the 6 weeks. Orlando's theme this year is… DANCE: LIVE!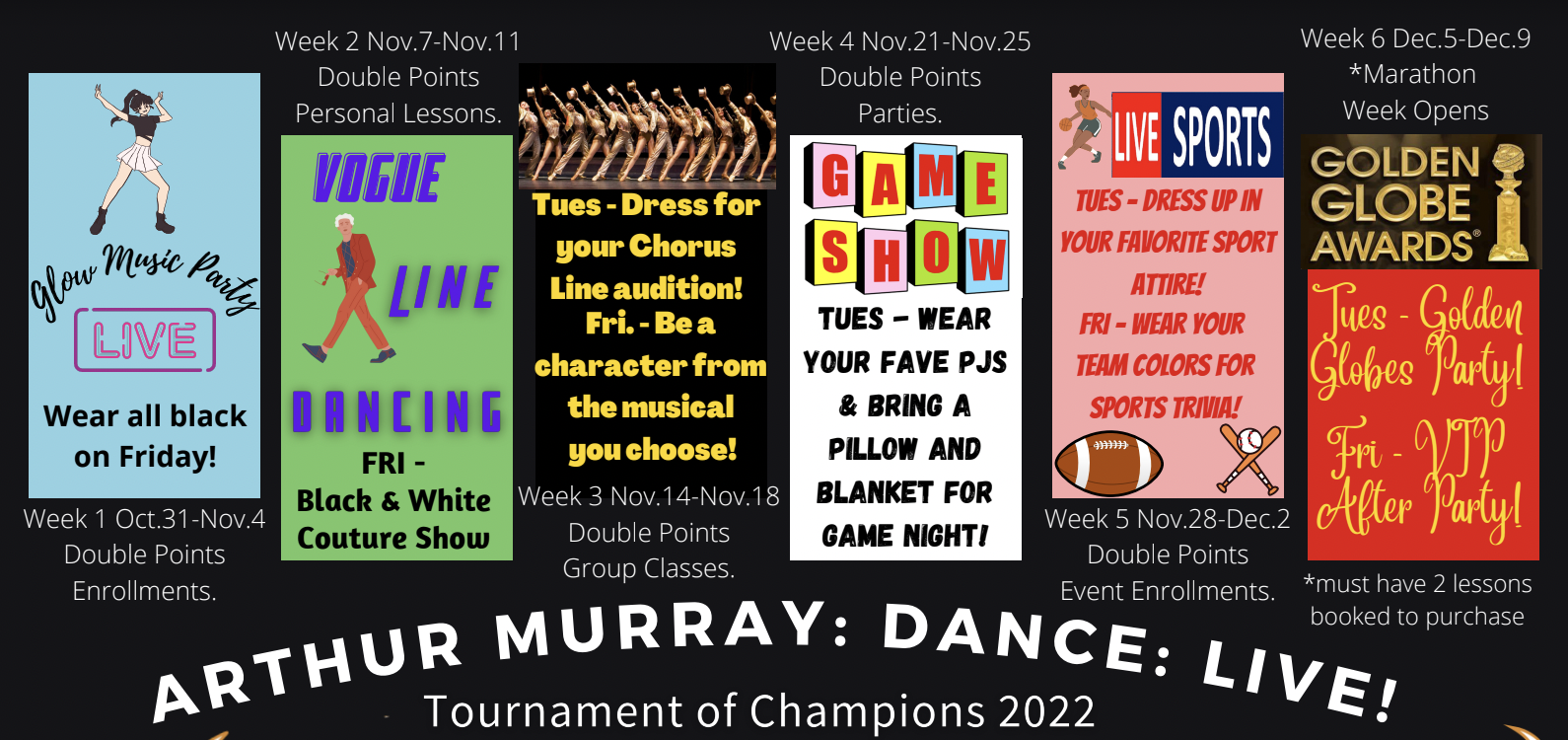 How To Get Points…
Points can be used during the Tournament of Champions Finale Party.
There are a variety of ways to earn points… You can grab a flyer from the studio with all this year's TOC details!
Private lessons – 100 points each lesson (5/week with different teachers = 250 bonus points! 10/week with different teachers = a whopping 500 bonus points!)
Coaching – 150 points!
Enrollment – Grab a student dance package and some points. 25 points per unit.
Group Lessons/Parties – Attend as many as you can and get to know the other students in the studio. While you are partying it up, you'll also earn 25 points!
Dressing Up on Theme Days – It's not a themed event for nothing… get your creative juices flowing and dress the part and earn 100 points!
Showcase at Spooktacular/Turkey Trot – 100 points
DOR – 750 points!
Spotlight – 50 points! (max 1 per week)
Bring Food – Pretty sure this is an instructor favorite! Bring something to the party or even to your lesson and serve yourself 25 points for snacks, 100 for a meal (100 bonus points if it's homemade!) (max 1 per week)
Bring Guests – Guests must take an introductory lesson… it's free for them, and you earn 100 points each! Win-Win!
Referrals – 500 (takes sample) 1,000 (purchases a program)
Google/Yelp Review – Share how much you LOVE the Arthur Murray Orlando studio by giving a review! Don't forget the kudos to your dance teacher! This is a serious point-getter… Review us on Google and/or Yelp and earn 500 points!
… these are just a few ways to earn points, and there are weekly specials that take place during the Tournament of Champions. Get with your studio for more information.
If you are not a student yet… Grab your New Student Offer and come join us on the dance floor!