Group Classes and Studio Parties!
Dancing is addictive! You know this of course if you have already been to your free lesson. If not, click here to schedule your first lesson today!
Private ballroom dance lessons are great, but we want to encourage you to take your dancing skills to the next level! That's why we offer weekly group classes and parties right inside the studio!
Consider this your personal invitation to join us for group classes and parties. The only requirement to attend is that you are an active student at the studio.
Connect with us to stay in the loop on group class and studio party dates!
You can find our class and party dates and times in 4 places! We highly suggest signing up to receive our newsletter, where we send the calendar out monthly! Also, connect with us on social where we send out weekly reminders. Click the links below to connect with us and never miss a chance to DANCE!
Weekly Studio Parties
We love a good excuse to throw a party… And what better reason than to give our dance students an excuse to DANCE! Our weekly dance parties are typically themed and guaranteed to be a BLAST! Before you know it, you'll be marking your calendar to attend them all!
Benefits of Attending Parties
Studio parties allow students to dance with different partners and show off their sweet skills! They are also the perfect place to socialize and a great reason to dress up (or dress to the theme)!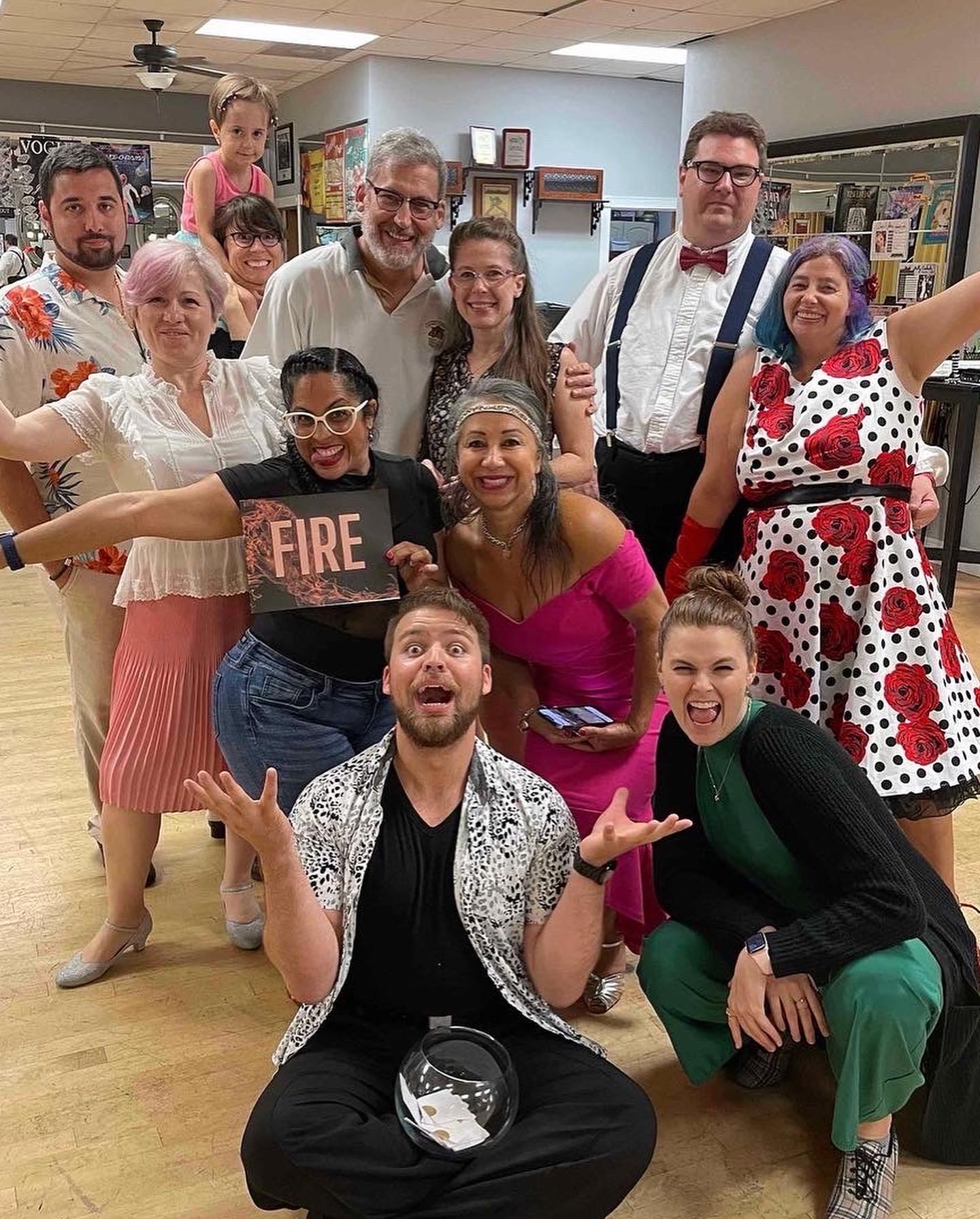 Weekly Group Classes
Group classes are based upon skill level as well as style of dance. So make sure you are connected with us on Instagram or Facebook to see the monthly calendar and weekly reminders. 
Benefits of Attending Group Classes
Group classes are a huge benefit to students! They allow the opportunity to dance with different partners and dive deeper into specific dance styles.
Group Class & Party Fees
We have GREAT news! There are no additional fees associated with attending our group classes or studio parties! They're included in your tuition. If you are not currently an active student of ours but would love to check out a group or class, please contact us, and we will get you plugged in! Or if you ARE a current student and want to bring a friend so they can see all the excitement, you can do that too!
Tuition Costs
Tuition varies depending on several factors. After your introductory lesson, the instructor will recommend a custom program. They'll also answer any questions you may have. Factors considered when determining your custom program are:
the skill level you are striving to achieve

styles of dance you'd like to learn

 your dance schedule 
Introductory Lesson (It's Free)
You've decided to give ballroom dance lessons a whirl. What's next? An introductory lesson! Your introductory lesson is free (click here to schedule now). Here's what you need to know about your 1st lesson:
It is a 30 min sample lesson. You don't need a partner.

Schedule anytime Mon-Fri between 1 pm and 9 pm based on your availability.
Arthur Murray Orlando – Get Access to Our Group Classes and Events!
How do you gain access to our educational group classes and hoppin studio parties? Become an active student at our studio! Click here to schedule your first lesson (it's free)!