7 Reasons to Become a Ballroom Dance Instructor
Waltz your way into a new career today! Literally, become a ballroom dance instructor and dance for a living! It really doesn't get better than that.
Imagine getting up each day knowing you're headed to a career where you can develop your skills while helping others develop theirs. Think of what a workday would look like where you spend your time socializing and sparking joy in others instead of sitting in an office. Sound too good to be true? Well… it's not! Become a ballroom dance instructor and begin a new career where you look forward to your workday!
Become a Ballroom Dance Instructor
In this article, we are sharing our top 7 reasons you should become a ballroom dance instructor.
1. You Dance, They Dance, We Dance!
Imagine heading into work knowing you will not be sitting behind a desk. Or running in and out of meetings all day long. Instead, you get to meet new people develop relationships, and dance every single day! While teaching each day, you are improving your skills as well as the student's skills.
2. Let the Creative Juices Flow
Watch as your students develop in ways they never thought they could—all while allowing your creativity to come out as well.
3. Social Time All the Time
There's no waiting for a lunch break for a good conversation, and it's a good time all the time. Laughing and smiling are constant things while dancing.
4. Fun Physical Fitness
Help people stay active and lead a healthier lifestyle (sometimes they don't even know it). The term exercise or fitness may not be the first thing that pops into a new dancer's mind when signing up for ballroom dance lessons. However, they are active their entire class and are becoming healthier each time they dance. It's the perfect combination; you get to help people live healthier lifestyles and get in the physical fitness they need, all while having fun.
5. It Doesn't Get More Fabulous Than This!
You get to wear fabulous clothing every day. Show up dressed up! Seriously, it's a thing the more impressive you dress, the more fun you have dancing.
6. It's Not Just a Job. It's a Career!
Being a ballroom dance instructor is more than just a job. It's a career! Once the ballroom dancing bug bites, people often take lessons for years. For dancers to progress, it is essential to take private lessons regularly. The ballroom dance lessons bring the students in, and it's the instructor that keeps them coming back for more.
7. Travel
You'll have the opportunity to travel. Sometimes it will be to cheer your students on during a competition, while other times, you'll compete yourself and represent the studio.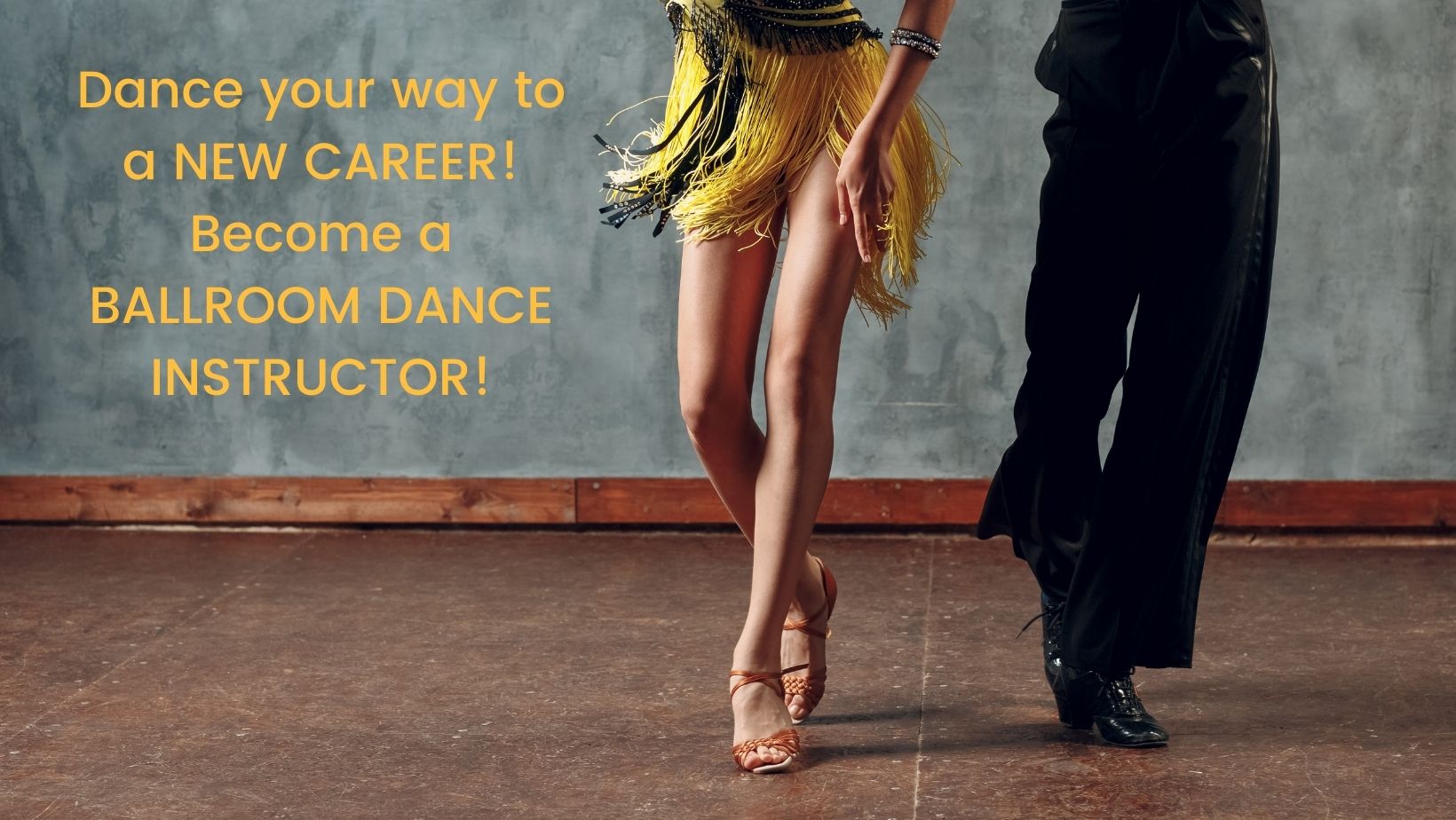 Become a Ballroom Dance Instructor at Arthur Murray Orlando
Arthur Murray Orlando is always looking to hire talented dance instructors!
Are you a self-motivated, fun, energetic, and self-oriented individual? Fantastic… You're a perfect candidate for applying!
When you become a ballroom dance instructor at Arthur Murray Orlando, we provide the tools and paid training necessary for transforming you into a skilled dance instructor! You bring the passion and dedication, and we will be your mentors.
We provide (paid) training!
ALL DANCE INSTRUCTORS will be professionally trained in dance styles including Ballroom, Latin, Etc.
Job Perks
Lively, up-beat & social work environment
Travel & performance opportunities
Competitive pay & benefits
Ideal Instructor Qualities
Athletic
Passionate about dance & music
Enjoys teaching all types of dance to all levels of students (beginner to advanced)
Must enjoy working with people
Multi-tasker
Team player
Passionate about dance, theatre, modeling, and acting is a plus!
Job Details
Background in dance, Zumba, ballet, or ballroom is a plus
Must have a positive attitude, upbeat personality, and "no excuses" mindset
Must be growth & goal-oriented
Now that we have you dreaming of becoming a ballroom dance instructor, click here to request available dance opportunities!
Arthur Murray Orlando – 7 Reasons to Become a Ballroom Dance Instructor
It's time you love what you do! Dance your way into a new career as a BALLROOM DANCE INSTRUCTOR! At Arthur Murray Orlando, we are always taking applications. Click here to fill out our application, or send your resume to [email protected]